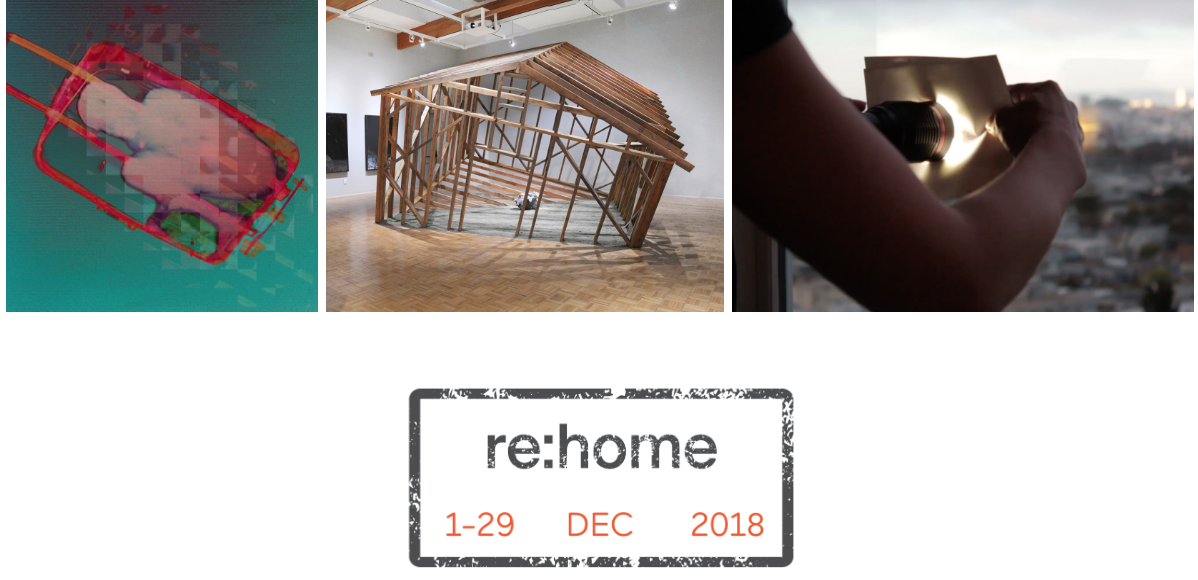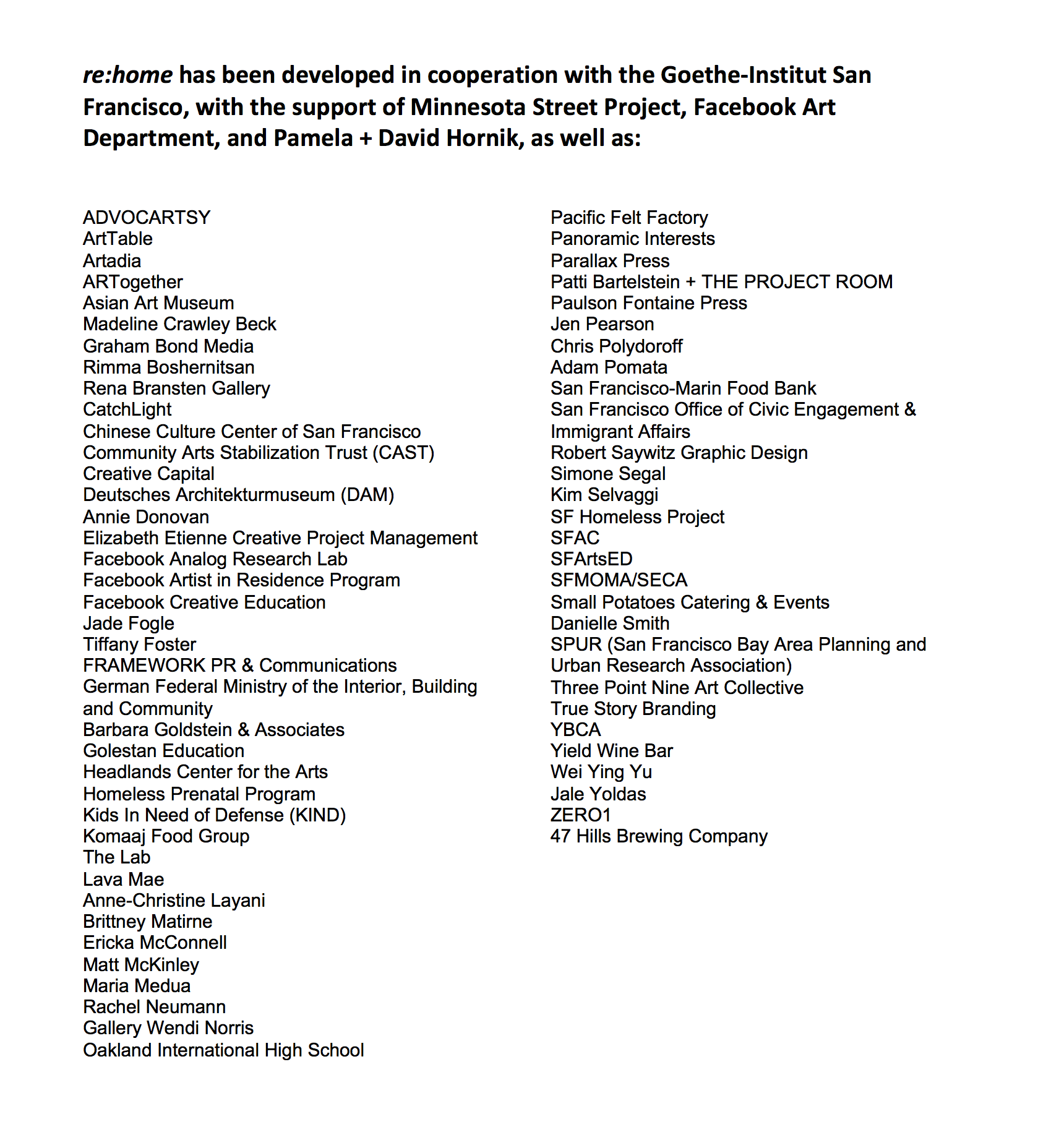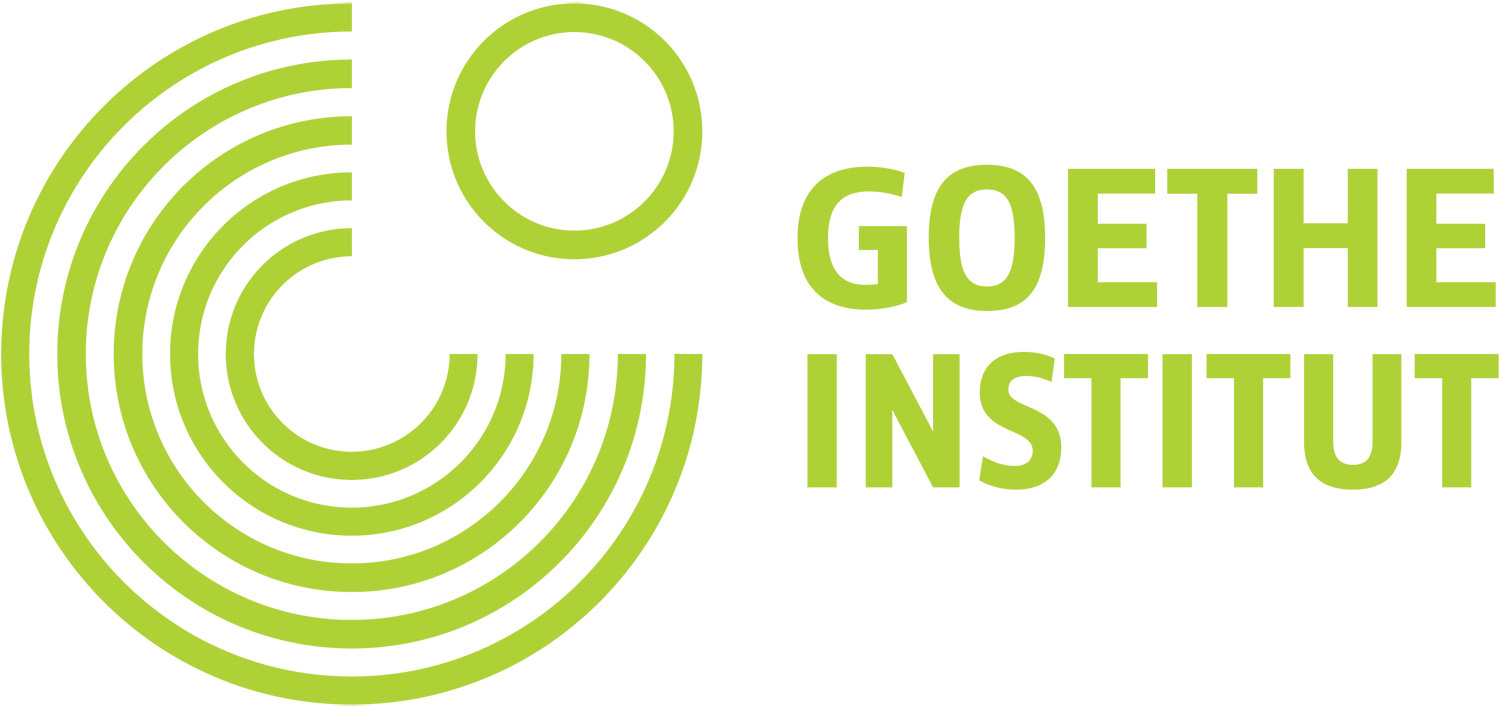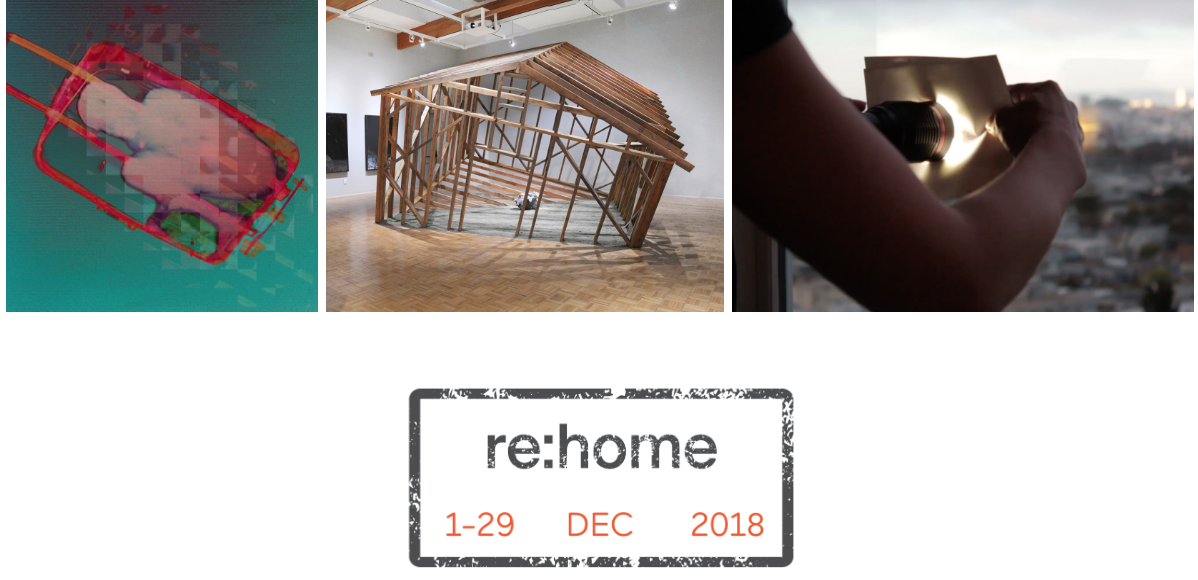 re:home - December 1- 29, 2018 - Minnesota Street Project, Gallery 200, San Francisco
AKArt, re.riddle, and Collect for Change™ organize a For Freedoms exhibition exploring the plight of political and economic refugees in the San Francisco Bay Area - examining sanctuary city, homelessness and the flight of the creative class.
Developed in cooperation with the Goethe-Institut San Francisco, re:home is a For Freedoms exhibition and community action, that examines how the broad societal crises of sanctuary city, homelessness, and the flight of the creative class intersect in the San Francisco Bay Area. On view at Minnesota Street Project from December 1 - 29, 2018. Opening Reception: Saturday, December 1 from 5-8pm. A related For Freedoms Town Hall Event: Saturday, December 15 from 6-8pm.
+ RSVP to the Opening Reception: Dec. 1, 5-8pm HERE
+ Share the Opening Reception Facebook Event HERE
+ Share the Family + Community Day Facebook Event HERE
+ RSVP to the For Freedoms Town Hall: Dec. 15, 6-8pm HERE
+ Share the For Freedoms Facebook Event HERE
The exhibition is accompanied by a Community Action Center, for attendees to connect with organizations—such as Kids In Need of Defense (KIND), Oakland International High School, Lava Mae, Homeless Prenatal Program, Creative Capital, and Headlands Center for the Arts, among many others—working on the forefront of the issues reflected in the show. To further democratize access to the artwork and concepts within re:home, a Pop-Up shop of prints, artist editions, and books will be presented in conjunction with the exhibition, as well as a For Freedoms lending library of books focused on the relevant topics. Through the Collect For Change™ platform, portions of proceeds from select works offered in the re:home exhibition and Pop-Up Shop will go to relevant organizations selected by each of the participating artists.
re:home pushes forward the conversation sparked by Making Heimat. Germany, Arrival Country, which was developed by Deutsches Architekturmuseum (DAM) and first presented in the German Pavilion at the 2016 Venice Architecture Biennale. re:home examines how the concepts of "Heimat" (Homeland) and "Arrival City" invoke contemporary regional struggles, exploring what it means to be a political refugee, and the modes of displacement endured by economic refugees. The exhibition reflects upon and critiques the lights and shadows of San Francisco as an "Arrival City," and more importantly, presents and models the ways in which it can become a more effective one.
Throughout the exhibition, programming, performances, and special events will be held in collaboration with various organizations, institutions, galleries, collectives, corporate entities, individuals, and foundations. On Saturday December 8, from 11am-2pm a re:home Family + Community Day will feature free art-making workshops and interventions by Sanctuary City Project, and Ramekon O'Arwisters' Crochet Jam.
A For Freedoms Town Hall event will take place in Minnesota Street Project's Atrium on Saturday, December 15 moderated by Marc Bamuthi Joseph, spoken-word poet, dancer, playwright, and Chief of Program and Pedagogy at the Yerba Buena Center for the Arts. The Town Hall will begin with a reading by students from Oakland International High School (OIHS) featured in the book I AM HOME: Portraits of Immigrant Teenagers (edited by Rachel Neumann, foreword by author + artist Thi Bui, photography by Ericka McConnell, published by Parallax Press). Joseph will then perform a poetic response to Douglas Saunders' 'eight theses' on what constitutes an 'arrival city,' posed in his book Arrival City: How the Largest Migration in History Is Reshaping Our World, which became the basis for the original Making Heimat exhibition. Other key participants include Katie Annand / Kids in Need of Defense (KIND); Doniece Sandoval, Founder + CEO Lava Mae; Rodney Ewing, Ana Teresa Fernández, Hung Liu, and Julio César Morales, Artists + Activists; Deborah Rappaport, Co-Founder of Minnesota Street Project; Sharon Maidenberg, Executive Director Headlands Center for the Arts; and Creative Capital.
Celebrating the universal truth that food is a bridge, and with the goal of nourishing a deeper sense of community and authentic dialogue surrounding re:home, various food interventions will take place in conjunction with the exhibition, including a food drive benefiting San Francisco-Marin Food Bank. Additional culinary interventions are curated by Hanif Sadr, Chef & Co-Founder, Komaaj Food Group.
Read more about supporting as a Sponsor or Collaborator, or please contact info@collectforchange.org.

Join the conversation on Facebook, Twitter, and Instagram using hashtags #rehomeSF #WeAreAllImmigrants #SanFrancisco #CollectForChange #ForFreedoms #SFGoethe #ForChange #ArtAsActivism #MakingHeimat #ArrivalCity #SanctuaryCity #Refugees #Immigration #Homelessness #Displacement
Above Images: (left to right): Julio César Morales, Boy in Suitcase, 2013, HD animation video with sound, 3:33 minutes, Edition of 3 + 2AP, Courtesy of the artist and Gallery Wendi Norris, San Francisco; Mark Baugh-Sasaki, Between Landscape and Memory (1105-D), 2018, Wood, earth, rocks from Tule Lake Segregation Center, 700-pound angled wood frame, 12 ft l x 12 ft h x 4 ft w; Summer Mei Ling Lee + Laura Boles Faw, á Dieu, 2018, site-specific performance for After Tomorrow at the Residence of the Consul General of France in San Francisco;
Marina Abramović designed this poster with Illycaffè Creative Director Carlo Bach for the 50th Barcolana regatta. Image courtesy of Barcolana/Art Director Matteo Bartoli.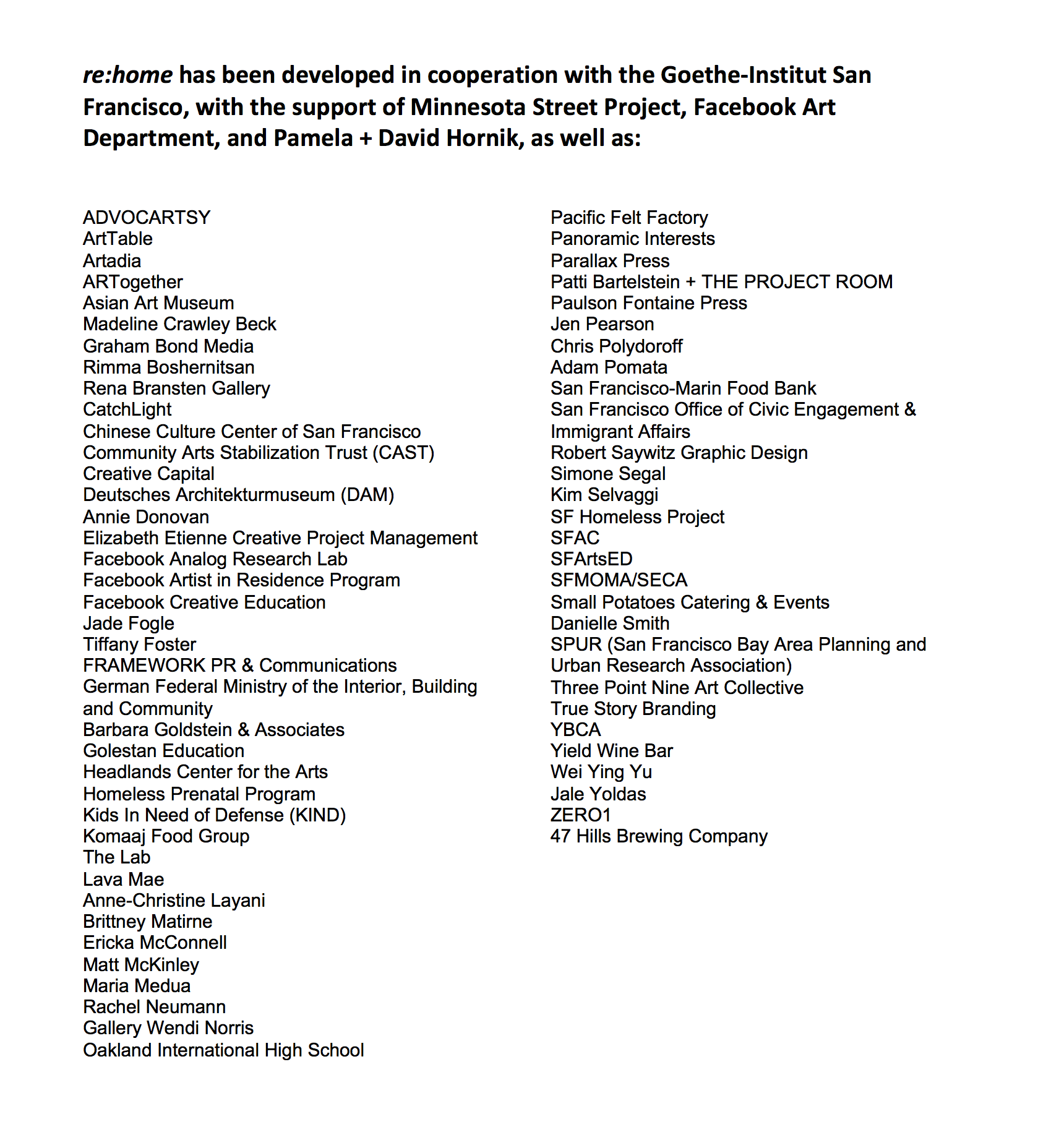 SUPPORTERS + COLLABORATORS
re:home has been developed in cooperation with the Goethe-Institut San Francisco, with the support of Minnesota Street Project, Facebook Art Department, and Pamela + David Hornik, as well as:
ADVOCARTSY
ArtTable
Artadia
ARTogether
Asian Art Museum
Madeline Crawley Beck
Graham Bond Media
Rimma Boshernitsan
Rena Bransten Gallery
CatchLight
Chinese Culture Center of San Francisco
Community Arts Stabilization Trust (CAST)
Creative Capital
Deutsches Architekturmuseum (DAM)
Annie Donovan
Elizabeth Etienne Creative Project Management
Facebook Analog Research Lab
Facebook Artist in Residence Program
Facebook Creative Education
Jade Fogle
Tiffany Foster
FRAMEWORK PR & Communications
German Federal Ministry of the Interior, Building and Community
Barbara Goldstein & Associates
Golestan Education
Headlands Center for the Arts
Homeless Prenatal Program
Kids In Need of Defense (KIND)
Komaaj Food Group
The Lab
Lava Mae
Anne-Christine Layani
Brittney Matirne
Ericka McConnell
Matt McKinley
Maria Medua
Rachel Neumann
Gallery Wendi Norris
Oakland International High School
Pacific Felt Factory
Panoramic Interests
Parallax Press
Patti Bartelstein + THE PROJECT ROOM
Paulson Fontaine Press
Jen Pearson
Chris Polydoroff
Adam Pomata
San Francisco-Marin Food Bank
San Francisco Office of Civic Engagement & Immigrant Affairs
Robert Saywitz Graphic Design
Simone Segal
Kim Selvaggi
SF Homeless Project
SFAC
SFArtsED
SFMOMA/SECA
Small Potatoes Catering & Events
Danielle Smith
SPUR (San Francisco Bay Area Planning and Urban Research Association)
Three Point Nine Art Collective
True Story Branding
YBCA
Yield Wine Bar
Wei Ying Yu
Jale Yoldas
ZERO1
47 Hills Brewing Company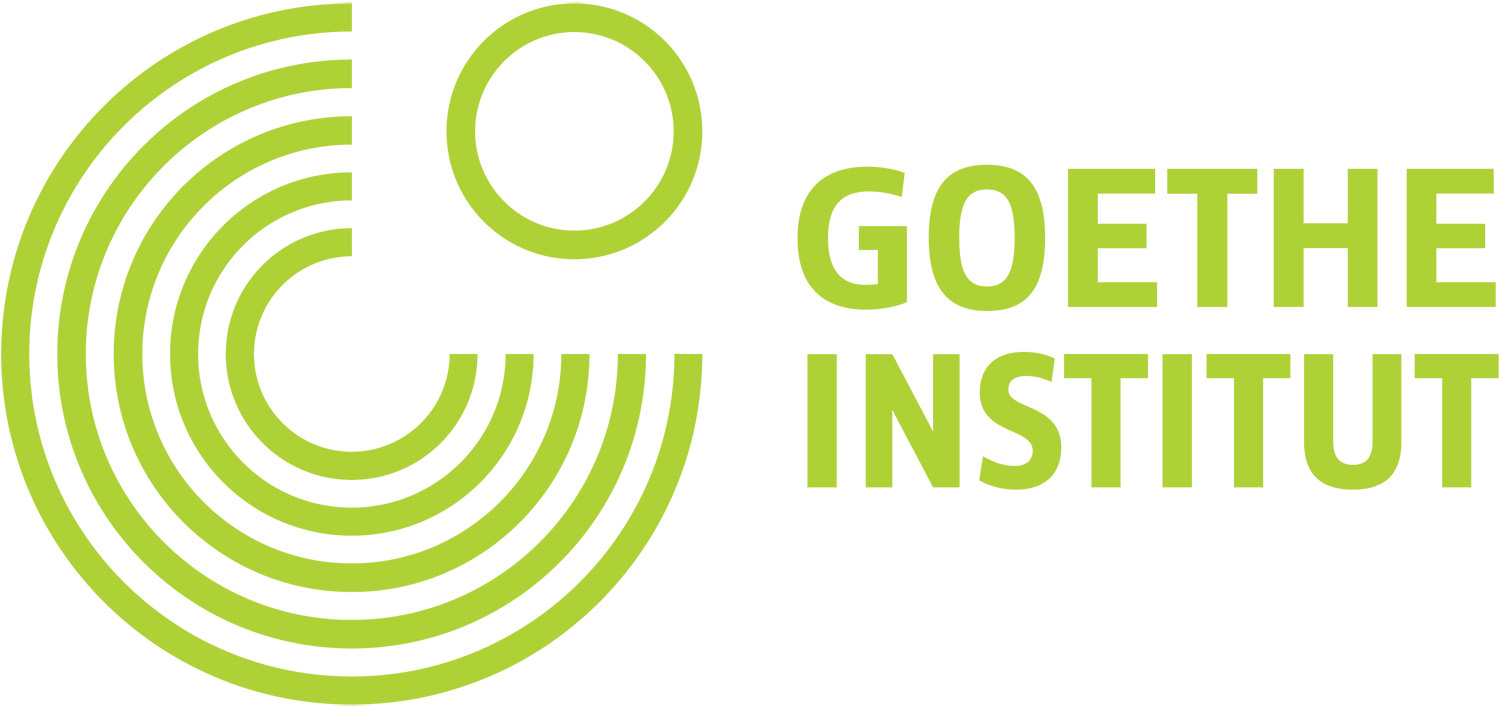 ABOUT THE GOETHE-INSTITUT SAN FRANCISCO
The Goethe-Institut San Francisco was established in 1967, with the goal of organizing and supporting cultural events together with American institutions. The cultural focus of the institute concentrates on film and media, as well as modern art and literature. In addition to cultural programming, the institute organizes public discussions pertaining to contemporary social-political events. The ART-Lounge is the downtown event space of the Goethe-Institut San Francisco, where lectures, panel discussions, exhibitions, films, music events, and more are presented. The language department of the institute offers German language courses at all levels, as well as special courses relating to German literature, contemporary issues of German life, or conversation. The institute's exams provide evidence of one's German language-proficiency, and are internationally renowned and accepted worldwide. Furthermore, the San Francisco branch offers consultation and placement within various language learning opportunities in one of the 14 Goethe-Instituts in Germany or online. In the educational liaison arena, the Goethe-Institut San Francisco consults with teachers and students of the German language, and partners with schools and universities.



ABOUT FOR FREEDOMS
For Freedoms started in 2016 as a platform for civic engagement, discourse, and direct action for artists in the United States. Inspired by Norman Rockwell's 1943 paintings of the four universal freedoms articulated by Franklin Delano Roosevelt in 1941—freedom of speech, freedom of worship, freedom from want, and freedom from fear—For Freedoms seeks to use art to deepen public discussions of civic issues and core values, and to clarify that citizenship in American society is deepened by participation, not by ideology. For Freedoms believes art, and artists, play an important role in galvanizing our society towards a more representative and transparent government. Since 2016, For Freedoms has produced special exhibitions, town hall meetings, billboards, and lawn sign installations to spur greater participation in civic life. This year, For Freedoms launched its 50 State Initiative, a new phase of programming to encourage broad participation and inspire conversation around November's midterm elections. Building off of the existing artistic infrastructure in the United States, For Freedoms has developed a network of over 300 artists and 200 institutional partners who will produce nationwide public art installations, exhibitions and local community dialogues in order to inject nuanced, artistic thinking into public discourse. Centered around the vital work of artists, For Freedoms hopes that these exhibitions and related projects will model how arts institutions can become civic forums for action and discussion of values, place, and patriotism.
Image: Rodney Ewing, Human Beings: Sanctuary City: The Outsider, 2018, Dry pigment and silk screen on paper, 29 x 41 in., Commissioned by SFAC for the Art on Market Street Kiosk Poster series, ©Rodney Ewing
Images: Sergio De La Torre and Chris Treggiari, Sanctuary City Project's mobile tricycle silk screen cart; Weston Teruya, Source of the brook, root of the tree (Sanctuary is a practice series), 2018, Created in conversation with Mabel Teng (based on research by Him Mark Lai) from the Chinese Culture Center of San Francisco, Poster print including photo of paper sculpture from various recycled papers, cardboard, and paper thread, 68 x 47.25 in., Commissioned by SFAC for the Art on Market Street Kiosk Poster series, ©Weston Teruya, Photo courtesy of SFAC.
ABOUT re.riddle + CANDACE HUEY
re.riddle presents unique programming showcased in site-specific exhibitions and pop up events in San Francisco, Paris and London. The itinerant gallery curates socially engaging, playfully subversive and multidisciplinary exhibitions of contemporary art. Candace Huey brings her extensive knowledge of and experience in the art world to her projects. Huey has worked for the Fine Arts Museums of San Francisco, Bonham's auction house, and various galleries and cultural institutions in the Bay Area where she curated the exhibitions such as Consulado General de México, Consulado General de España, and Consulat Général de France à San Francisco. She currently teaches art history at a private university, sits on the board council for SECA SFMoMA, de Young Museum College Programs Advisory and is an active member of ArtTable and Artadia San Francisco Council.
ABOUT COLLECT FOR CHANGE™
An initiative of AKArt, Collect For Change™ offers original artwork by emerging and established contemporary artists, underscored by the goal of creating social change. They collaborate with artists across disciplines to offer a unique, as well as socially-responsible, means of collecting. With a percentage of all sales benefiting an organization personally selected by each artist, they aim to cultivate the artist-collector connection—providing new and seasoned collectors the opportunity to develop a deeper comprehension of the artist's creative and world visions. Their mission is to be a force for positive change in the art world, and the world at large.


ABOUT AKArt + AMY KISCH
AKArt—a resource for the global creative community—is an art advisory agency and an independent curatorial platform. Founder + CEO Amy Kisch's expertise includes arts programming, development, marketing, PR, curation, collection management, and publishing. Having spent six years in clinical and community social work, her projects are underscored by efforts to democratize access to the art world, while upholding integrity and quality in curatorial vision and programming. Kisch previously ran Sotheby's Preferred global VIP program for the auction house's top clients, developing partnerships and curating, producing, and marketing VIP programming—including the Sotheby's Preferred Museum Programme, Art Fair Programme, and The Economist Lecture series in cities including New York, London, Los Angeles, San Francisco, Paris, Chicago, and Hong Kong. Prior to that, she worked with Sotheby's global departments creating highly-customized business-winning proposals for the company's major private, institutional, corporate, and museum clients. While at Sotheby's, Amy concurrently held the role of Executive Director at the Williamsburg Gallery Association in Brooklyn, developing programming and partnerships with area galleries, non-profits, artists, corporate, and government agencies. A member of ArtTable, Kisch sits on Headlands Center for the Arts' Advancement Committee, and on the boards of Art & Abolition and Time In Children's Art Initiative.
ABOUT SUZANNE ZUBER
Suzanne Zuber is an independent curator, art historian, and translator based in Germany and the United States. She has worked on various projects with the Hirshhorn Museum of Contemporary Art (Smithsonian), the New Museum, the Whitney Museum of Art, the Neue Galerie, and the Jewish Museum in New York. In Germany, she developed additional exhibitions, books, and programs with the Remarque Peace Center and the Felix Nussbaum Haus in Osnabrück, as well as with the Jewish Museum in Munich. Her co-authored book, Remarque's Impressionists (Vandenhoeck & Ruprecht, 2013) explores the life and art collecting of the émigré writer Erich Maria Remarque, highlighting the German refugee experience in America during the Second World War. Topics in other co-curated exhibitions have ranged from the role of Jewish identity in the work of Modern artist Amedeo Modigliani and the Berlin Impressionist Max Liebermann, to the aesthetics of postcolonial apartheid in the work of South African artist William Kentridge.
MEDIA CONTACTS
Danielle Smith / FRAMEWORK PR & Communications: danielle@frameworksf.com
Amy Kisch / AKArt Advisory + Collect For Change™: amy@AKArt.com
Candace Huey / re.riddle: chuey@reriddle.com