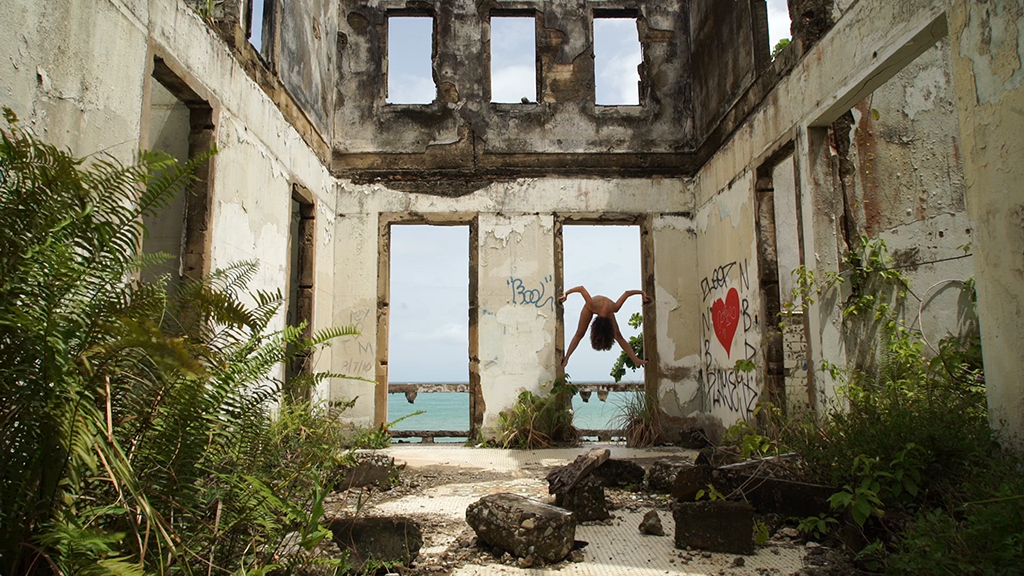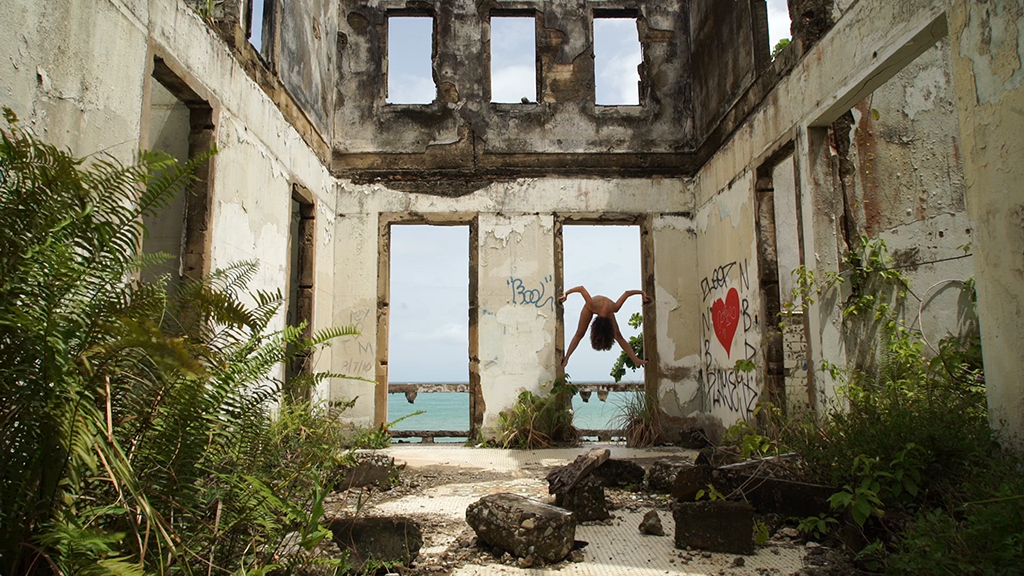 Gusano (Worm)
Photograph of performance, 18 minutes loop, Site II Castillo Villa del Mar, Naguabo, Puerto Rico, 2017
Site II Castillo Villa del Mar, Naguabo, Puerto Rico is the location of a historic Victorian monument that lies in ruins. This place evokes a present reminder of the axis of commerce during the Spanish colonization in Puerto Rico which is located at the shore of the Caribbean Sea. Embedded in its architectural structure, the building acts as a vivid reflection of the Island's past and present economy, from one colonization to another.
Blinded Dawn
Photograph from site-specific performance, Manatí, Puerto Rico, 2017.
Falero describes the performance:
"I install my body in an abandoned space, I drag the pain of silence, and a body that operates in protest.
The social body contemplates the possibility of the outside of the bandage; however, it does not manage to extend itself from the blindfold on the frame.
Anesthetized, it becomes part of the scene, the body returns to its main status."
Tayrn Simon's A Cold Hole
Participation and performance with Taryn Simon's A Cold Hole during her Artist Residency at the MASS MoCA, Massachusetts, 2018.
Renacer (Rebirth)    
Self-Portrait, Manatí, Puerto Rico, 2017
the pineapple is sour
Documentation of The Pineapple is Sour, single-channel audio, site-specific installation, The Mint, San Francisco, 2017. Documentation: Jeshua René González Camacho.
Falero recorded multiple telephone conversations with her grandmother, engaging in topics about the current the economic problems facing the Island (Puerto Rico), the diaspora and the complicated political status of the country and its relationship with the United States.
About the artist:
Natalie Falero's photography, installation and performance work examines issues and questions surrounding her Puerto Rican identity, the current state of her homeland torn apart from the hurricane and economic recession, and Puerto Rico's complicated political history with the United States.
Highly invested in understanding the body as mode of communication and interaction with the audience, Falero examines the body as site of activism and reinvention that processes trauma among acculturation and social-political conditions. Her work explores social injustices related to discrimination of race and gender, and colonialism.
Through ritualistic acts, Falero dismantles the naturalized beliefs surrounding her cultural identity by imprinting the notion of a territory with her body. She accesses the body's poetic language in pursuit of the processes that speak to the experience of emancipation. Falero is deeply influenced by the interactions of the individual and the collective state of mind, specifically those created by the current socio-political status of her homeland and the impact of their effects on the collective body and cultural identity.